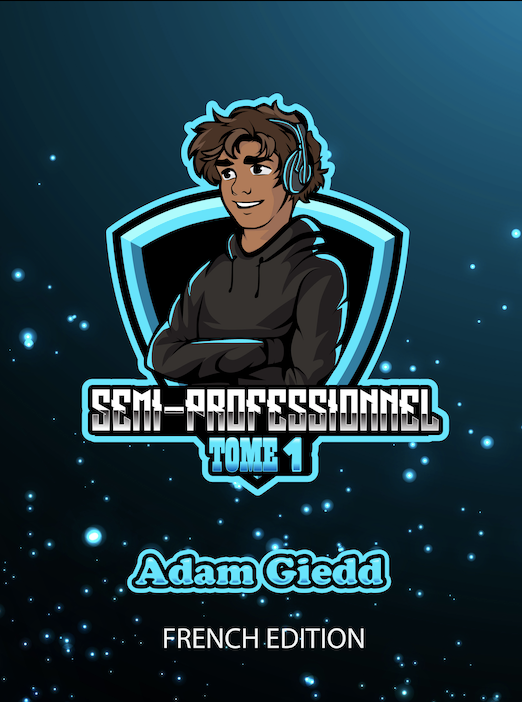 Semiprofessionnel (FRENCH), book 1 by A Giedd
---
Léo wants to be a professional video gamer but he is under pressure from his dad to get good grades. In Léo's mind, winning his first cash-prize tournament worth $500 will go a long way in earning his dad's respect for e-sports. As Léo pursues his dream, the relationships in his life will prove to be critical to his efforts, but who will be there for him when he needs it the most? Intended for the end of level one and beyond this book contains limited vocabulary and many illustrations. 4779 total words.  LEVEL 1 AND ABOVE.   Click HERE for book 2!

isbn 9798483203179
---
Share this Product
Perfect for teens!
As I was reading this book, I kept thinking about my own children when they were deep into gaming as well how much my current students bring up video games during class. Adam's book taps directly into a gamer's passion and the conflicts with parents who are worried about their child's habits. This book is realistic, relevant, compelling, and well-paced. Semi-Professionel will make a great addition to a classroom library or will be fun to read as a class. I hope the 2nd part comes out soon!
A Popular Read
This is a classroom favorite during FVR! It's subject is appealing, and the language level is accessible to novice readers, but more advanced readers enjoy it too. It is a wonderful addition to the classroom library.
Semiprofessionnel
I am delighted with this book! I think my students are going to love it. I am setting up a 'trailer' to tempt them to choose it from our library for free reading. The layout, with the glossary at the bottom of each page should support independent reading and the flow of the story is engaging.
So approachable!
The level 1 books were so easy to read for first semester French I! The repetition of key phrases in various contexts makes it a great learning tool!